It was a sunny warm day in London on the 23rd of July, fitting for HYPER JAPAN's return for the first time since the pandemic. For those of you who are unaware of what HYPER JAPAN is, it is a convention in the United Kingdom showcasing everything Japanese under one roof. anime, cosplay, food, video games, martial arts, sake, you name it, if it is associated with Japanese culture there is bound to be a stall representing it. This time the event was in a new venue, Evolution in Battersea Park. This was not the only change that the organisers have implemented as there were some other key elements which regular attendees will also notice, so let's dive into what the day was like.
Overzicht van het evenement
A new venue meant the layout for the event had to change, on the one hand it was nice being in Battersea Park as there is a beautiful walk up to the venue, as long as you didn't get lost, plus it was the perfect weather for it. However it did mean the nearest tube station was around 20 minutes away, which does make it less accessible than it usually is (previously it had been about 5 minutes). When you arrive, separate lines for single sessions and those with multiple day passes were formed to try and speed people through. Generally it allowed quick entry, but the 2nd session in particular created a large queue as the venue reached capacity as too many tickets were sold. This alone feels like a bigger venue will be needed next time, it seemed the organisers were a bit too worried about a dip in numbers after the pandemic.
When you finally enter, you are straight into the main hall, which interestingly has fairy lights in the ceiling to create a starry night effect. Here is where the main sellers and stalls, alongside the main stage could be found. Despite the downsize, it was nice to see the range of stalls was maintained. From clothing, anime figures, trading cards, etc., but there were also some information stalls such as Japan Railway, Japan's National Parks, etc. A usual set up of consoles had returned, allowing people to have a break and play various multiplayer games. Yet a noticeable absence this year was Nintendo. Usually Nintendo have their own area, showcasing their games, with exclusive demos of future releases, and their own stage with events, however that was all missing. We were told that it is because the Japanese HQ of Nintendo wouldn't sign off on it as COVID measures are still in strong force in Japan, although with this venue there wouldn't have really been space for them anyway. Still a nice new addition was some backgrounds for cosplayers, or anyone who fancied it, could take photos which was a really cool idea.
Behind the main hall was a fringe area with independent artists and sellers who are inspired by Japan could sell their wares (prints, jewellery, etc.) alongside a Maid Cafe. Admittedly, it did appear a few of these independent sellers were also in the Main area, as there seemed to be more than usual. With the hot weather it got particularly hot in this area of the venue which unfortunately made it difficult to stay there for long periods of time. Towards the front right of the venue, (on the other side of the main hall) there were stairs going up to a balcony area, on the left had various workshops (mask making, tea ceremony, etc.), and on the right had the famous Sake Experience. Both of these you had to pre book as it was all sold out before arriving. In the middle there was a stall selling all the sake from the tasting session, luckily there were some cards describing the sake so if you missed out on the experience you could still make an informed decision. This space seemed a little under used but did have a balcony you could use to get a view of the event. Because the whole inside was quite tight and crowded it didn't feel as accessible as it usually is. The main stage did have a ramp and higher platform for people in wheelchairs but still would have been difficult for them to reach the main stage in the first place.
A major new edition to HYPER JAPAN's layout was an outside area where all the food stalls were placed, alongside the festival stage. Where most conventions it can get overwhelming, and Evolution got particularly hot inside, it was nice there was this designated area outside which they don't usually have (other than some concrete). The food queues however were extremely long for every stall (seemingly all the time) which was frustrating, at least the stage was there to keep people entertained. At least there was a nice mix of food, although there could have been a couple more options which also would have helped with the queuing. The outside stage was quite small, but did have a festival feel to it. Next to it as well was a grass area outside which people could sit on and still hear the stage, plus was a great space to get a breather. Cosplayers also leapt at the opportunity to take photos in the forest-like backdrop. Although with the weather there wasn't much shade around the stage which is a shame, particularly as the sun was very intense at one point it was hard to be an active audience. Speaking of which, let's discuss some of the acts that performed on the two stages.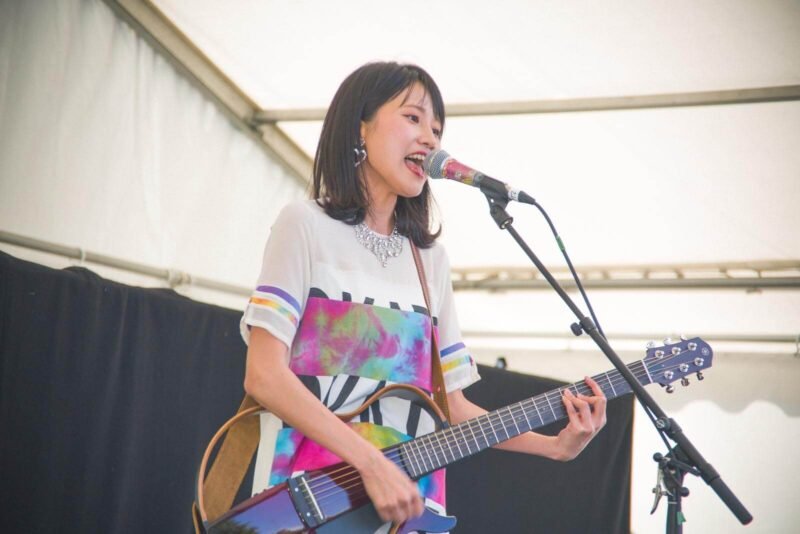 Performances during Session 1
My day started off with Kenichi Yamasaki (or Ken as he prefers) on the festival stage. First he performed a classic Japanese song solely with vocals, before performing the rest alongside his keyboard. The songs were a mix of covers and his own songs, generally upbeat and Ken always encouraged audience participation, prepping the crowd before each song on the key part they could sing along to. Ken ended on a slower and more powerful ballad. Ken's style really gave me RADWIMPS vibes so if you are a fan of them you should check him out! Overall it was a great start to the day.
Next on the festival stage was YOSAKOI LONDON TEMUZU, a dance group of British members who have studied and been part of troupes in Japan. Performing 3 dances, it does feel the stage was a little small for them and caused some timing issues. It was still interesting to watch a traditional Japanese dance.
After this, it was time to go inside to the main stage to catch Katsura Sunshine, who performed a sample of his rakugo show. Katsura captivated an audience, gathering a huge crowd filling up all the seats and people were stopping to watch through his sheer storytelling talent. He worked the crowd, who it all seemed a bit too early for, and got them engaged, making them laugh loudly with his puns. One would forget they were even at a convention, it was as if we were in a theatre specifically for him. If you ever get a chance to see his show, do not miss it! He joked about a Netflix special, although not sure if it was truth in jest…
The last act of the morning session was Mion on the festival stage. A mixture of covers and original songs, which were a nice refreshing mix that matched the summer sun which was out in full force. Most of the songs were upbeat, particularly the anime opening covers (Blue Bird from Naturo, and Gurenge from Demon Slayer), but she showed her range with some slower songs, nailing both styles. Not only did she win the crowd over with her performance but with her MCing, talking with the audience and generally looking out for them. Mion supplied endless cute energy, which made it no surprise how she amassed a good crowd. Rounding off the morning session on a high note.
Performances during Session 2
A rare main stage performance to kick off session 2, looking at a Sōsuishi-ryū demonstration by Seirenkan. Captivating as always, amassing a crowd who were amazed by the swordplay skills. Compared to previous years this felt more in depth and had more explanations behind what was going on. Would make anyone want to do it, which would be cool for a future HYPER JAPAN (of course with wooden swords). Only thing that was strange was it was the martial art of the day, when usually there are a few at HYPER JAPAN.
Back out to the festival stage for the next music act, Nyokeë. Providing a more electronic and chiptune flavour, with her vocals and DJing. There was also a guy dancing with an alien mask, won't lie it felt a bit odd. In all honesty she seemed out of place at HYPER JAPAN, only loosely feeling relevant with her Sailor Moon remix. Her set really wasn't for me personally, it seemed quite bland and made worse by the dancing alien.
The last act I caught in the 2nd session was Japone Artists, again on the festival stage. A captivating and subtle start as the flute and singer walk out to the crowd, moving round to enclose people in. The songs come together to form a story, enhanced by the costume changes between songs. Though it was all heavily rooted in traditional Japanese music and art, the bass helped reinvent it to have a modern feel. When the singer was changing, the bassist and flute would perform, working well to build the mood for the next song. One transition I particularly liked was a back and forth where they both were playing fast, and the flutist was using 2 flutes. When the story wrapped up, they ended on performing a cover of A Cruel Angel's Thesis, which only made the large crowd grow larger. It was truly special, and was the most interesting act of the day. Honestly felt they should have been on the main stage as they were quite limited by the size of the stage..
HYPER LIVE
Another change this year to HYPER JAPAN, is an extra concert in the evening, held in collaboration with Orion Live. The main stage inside had the chairs removed and a fence around to create a gig like atmosphere. Interestingly there was only really 5 minutes of change over time between each act which is impressive, however there were a few technical issues that did spoil a couple of the acts so possibly it was all quite rushed as there was most likely not much of a sound check beforehand due to it occurring where the event was only an hour ago.
First up was GARUDA who is no stranger to performing in the United Kingdom. She appeared after an intro track which played alongside a video, succeeding in getting the audience pumped for the acts ahead. Emerging at the end with a flag she kept raising up for her first song that continued the dramatic energy. The whole set provided constant energy, each song landing well with the crowd! Where I'm sure GARUDA started the night with fans already, I'm sure she left with even more.
Next up is BANG, a dance act that admittedly felt out of place. Interestingly he was quite insistent on having the crowd sit down on the floor but often encouraged audience participation. He showcased incredible dancing skill, particularly impressive body popping. There were even some funny skits about the merch towel he was selling which I feel is a game changer and would love to see more acts doing. Where it was a good performance, GARUDA got the crowd a bit too pumped as some audience members weren't so into the sitting down part. Ultimately might have been best if he performed first, as it was a shame not all the audience got behind him.
Next was a HYPER JAPAN regular, Miura Ayme. Starting off with an advert of a mobile game, Obey Me, which features one of his songs. Performing a mix of original songs and anime covers, he delivered a solid set although he did suffer from a technical issue as one of his backing tracks went missing. Still, Miura persevered through the issues, having good MC skills to keep the audience engaged whilst it was being dealt with and managed to give a good performance. He rounded off his set on a powerful ballad that brought it all to a nice end.
Before the final act, Vtuber Ninammini appeared and performed a couple of songs on the screen above the stage. Where she had a good voice, the crowd didn't buy in and was mostly ignored. Most likely as it was clearly pre-recorded it didn't really fit in with the night at all. Although it was most likely there just to kill time while the last act prepares, still felt like a waste.
To round off the gig was NECRONOMIDOL, who have performed at HYPER JAPAN before and even have done their own gigs multiple times in the UK. This performance was slotted in around their current European tour, and they also performed another show in London on the Sunday (outside of HYPER JAPAN). Out of all the sets this was the one plagued with the most technical issues. As they came on, their microphones weren't on as each member would start to sing and was only fixed a few words in. First singer this can be forgiven but when it happens four times, that is incompetence. After the first song the bass was way too loud, causing distortion as the frequency over powers the rest of the instrumental and even the vocals. It was hard to hear them over it which was a shame and felt quite odd. Where there are at the moment of performance 4 members, one left for half the set, assumingly she is a newer member who didn't know all the songs yet. Still the girls soldiered on and gave a good of a performance they could. When all four were back they finished the night on a stronger note.
Summary
Overall it was a great day, despite the smaller venue (which did cause some issues for people only attending the second session) and some technical difficulties. It is nice the event managed to return after the pandemic, and hopefully it will be able to return in full force next year. Particularly with more acts as it felt quite sparse this year, most notably the 2nd session didn't seem to have as much on. Even so, I'm excited for the next one already!
Note: the photo reports of HYPER Live on Friday and Saturday have their own articles here and here.