If you ever needed proof that the current rock scene was in ruddy health, then you need look no further than the Amplified Festival. Featuring eight bands that cover the whole spectrum of heaviness, this year's bill is a delectable smorgasbord of great music that stays true to the festival's original ethos of supporting grass roots music.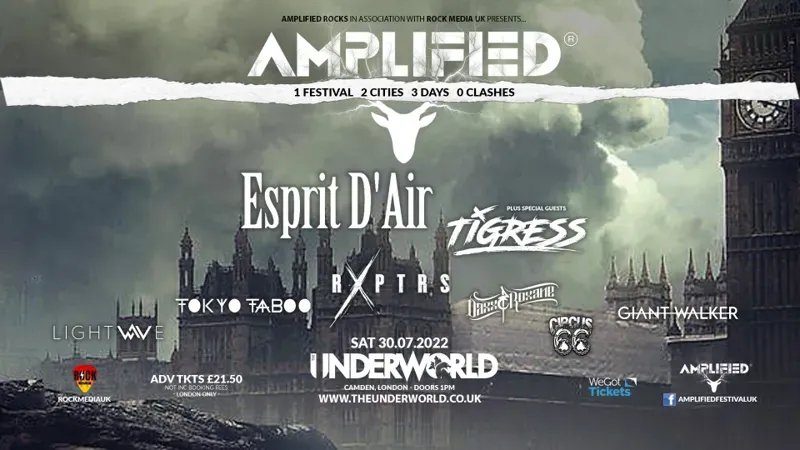 Getting the day off to a rowdy start are Circus 66, and opening shot Take Control is guaranteed to blow away any hangovers. They're a quartet who sound far bigger than their constituent parts and their unbridled enthusiasm sweeps up all present, and those who chose to arrive late have missed a real treat. With a charismatic vocalist, a hard-hitting rhythm section and a guitarist with plenty of tricks up his sleeve, Circus 66 really can't go wrong and they set the bar high for the rest of the day.
Swinging with a definite Black Sabbath vibe, Giant Walker aren't for the faint-hearted. Their doom-laden sound is brutally heavy with bassist Jordan Gregory and drummer Alex Black attaching themselves to the listener like a lead weight. Guitarist Jamie Southern unleashes some unearthly riffs (and gets extra points for his Corrosion Of Conformity t-shirt and impressive moustache) and over this maelstrom floats Steff Fish's ethereal vocals. It's an interesting tension of opposites, and it really works. A set culled from their debut album, All In Good Time, culminates in the excellent Katoomba, and I predict big things for this combo.
Hailing from the south coast (Bournemouth, to be precise) Lightwave are a band who fuse metalcore and pop. That may sound like a strange pairing, yet somehow, they're fused together and the result is a sound that veers wildly between loud and quieter passages, and with electronica nestling next to organic instrumentation. I imagine that if Avril Lavigne decided to play heavy metal, it's sound a lot like this. By second track, Dopamine, the band are firmly in the groove, and they deliver original tracks such as Fake with a punch. Lightwave have brought along a lot of friends and family, so they're guaranteed a good reception, and that's exactly what they get.
After an hours break, the evening session gets off to an explosive start with Tokyo Taboo. Using a heavy funk tape as an intro creates an expectant tone, but nothing can prepare us for the arrival of Tokyo Taboo and they hit the stage in a riotous cornucopia of sight and sound. Vocalist Dolly Daggerz pole dancers throughout the gig, and demands your full attention but, not wanting to be outdone, the rest of the band are a blur of energy, and even invade the crowd on several occasions. Tokyo Taboo are a group who constantly play with any preconceived ideas you might hold, and the provocatively titled Pussy Power really packs a punch and ensures the band won't be forgotten in a hurry.
Proving that metal is a truly global affair, Switzerland's Daxx & Roxane make a welcome appearance at The Underworld. Chock full of classic riffs, this Montreux mob encapsulate all that's good about raunchy rock n' roll, and it's impossible not to get swept up in their sheer joie de vivre. The band throw all the right shapes, and with songs such as the racy Fast Lane, they really can't go wrong. Their songs are life-affirming anthems that come liberally soaked in melody, and they deliver a set that ebbs and flows perfectly. By the time Daxx & Roxane reach the end of their allotted 40 minutes, there's not a soul present who isn't rocking along to their infectious beat.
The impossibly titled R X P T R S play metalcore the way it should be played. They have an eardrum popping, earth-shaking sound that threatens to quake The Underworld's foundations. The band hit the stage with the force of a 10-ton hammer and, as soon as the first note rings out, a mosh pit erupts centre stage, which is no surprise; it's that sort of music. Each song is a towering monolith that towers above and threatens to topple over and crush us beneath their monolithic majesty. Now signed to Metal Blade records (the doyen of all that's good and heavy) and armed with some of the heaviest songs known to man, it seems that the world is R X P T R S' oyster.
Having supported everyone from Billy Talent to Evanescence and torn up stages from Brighton to Berlin, it seems that Tigress are ready to headline the biggest venues, and on the strength of tonight's performance, it seems they're on the cusp of that milestone. They're a band who aren't afraid to mix things up, and the neat time changes and sonic shifts keep the crowd on their toes. For example, Feel It is a roller-coaster of a song that takes the listener on a wild ride, as it peaks and troughs and then returns to dizzying heights. Tigress will be back in London later this year, and that's one gig you should definitely check out.
With the stage bathed in ice blue light, a palpable tension builds as we await Esprit D'Air, and that sensation is only heightened by a bombastic into tape. Having just released their critically acclaimed sophomore album, Oceans, there's an air of expectation hanging over the band, a hype that has set the bar exceptionally high. After the elongated introduction, there's a sense of relief when they finally take to the stage, and when they do it's in a typically grandiose manner with the band first, followed by vocalist Kai, and they are welcomed by the biggest cheer of the night. With his slightly androgynous look, Kai is every inch the star, and he hangs from the microphone like the reincarnation of Jim Morrison whilst delivering his words with vocals that range from falsetto shrieks (as on the siren's song Ocean's Call) to guttural growls (The Abyss).
Kai has assembled a strong band, but tonight they're performing as a four-piece as second guitarist Ryoma couldn't make it from Japan. This means Kai occasionally plays guitar to add texture when required, but mostly he leaves the six-string in the capable hands of Yusuke, a dexterous guitarist who plays in a deceptively simple style, and makes complex solos look too easy. Takeshi (bass) and drummer Jan-Vincent combine to create a hefty sound, but they know when to add light, as they do on Leviathan, but mostly they provide a driving beat which propels Esprit D'Air forward. Like an anchor tied to a drowning man, Dead Zone is a weighty number that captures the essence of the version found on Oceans, and those packed tightly in front of the stage punch the air in unison, and sing along to every word.
At just 50 minutes Esprit D'Air's set is fairly brief, yet they waste not a single second, and their energetic, action-packed performance is rewarded with a well-deserved encore. This was my first time seeing Esprit D'Air in concert…but it certainly won't be my last.