Formed on the bustling streets of Tokyo, Satsuriku Robot have come a long way since their inception in 2020. After releasing their first EP First Contact, the following year, the band have gone from strength to strength and have recently inked a deal with worldwide label Wormholedeath Records. This union now comes to fruition with the band's debut album, NO THRASH METAL, NO LIFE!!, a long-player that's sure to propel the band to a prominent position on metal's global map.
Attesting to a sense of urgency, the band don't waste any time on fancy introductions and opening track THRASH NEVER DIE arrives like a nuclear warhead darkening the sky. With the rhythm section beating a furious tattoo and the guitars squealing like pigs on their way to an abattoir, everything about Satsuriku Robott screams "extreme". But then vocalist Kenichi Hayashi appears with his unique timbre and takes things into overdrive. In an age where thrash metal is making a resurgence, the versatile vocals are the one ingredient that could elevate the band above the pack. On this track Kenichi sounds as if he is being sucked backwards into a swirling vortex and gives proceedings an aggressive edge that sits well with the music.
Satsuriku Robot inhabit a musical space that recalls a time when hardcore punk was morphing into thrash metal. In terms of energy and attitude, you can hear elements of Agnostic Front and Suicidal Tendencies in the band's sound, but make no mistake, this crew are all metal and tracks like MAD THRASHER are heavy enough to hold their own with any of the bands in today's scene. Nevertheless, Satsuriku Robot have a definite crossover appeal, and NO THRASH METAL, NO LIFE!! will suit moshing or skateboarding equally well.
With the seven tracks comprising this album clocking in at a total of 27 minutes, NO THRASH METAL, NO LIFE!! is a fairly brief listen. Yet, this is a record that is overflowing with ideas, and the band have packed so much into those 27 minutes, that it seems a lot longer. There's plenty of variety on offer too; the band don't feel the need to play at breakneck speed all the time and the mean and moody EPISODE ZERO injects a nice change of pace, it adds relief and contrast, meaning that when the title-track appears, it is all the more ferocious. It's another thrasher to close the album, and ensures the band depart as they arrive; in a blaze of sonic fury!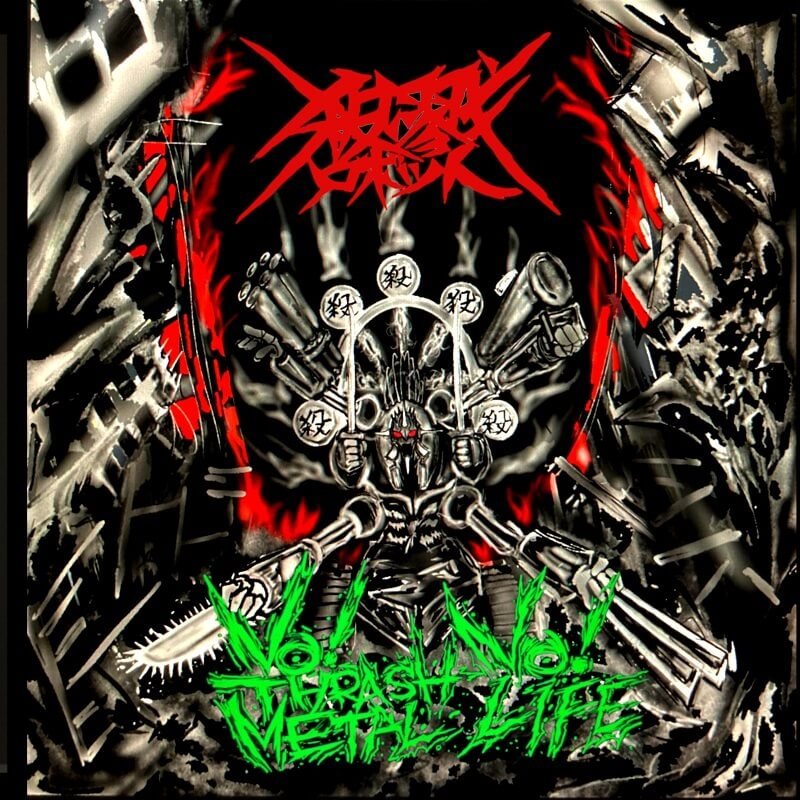 NO THRASH METAL, NO LIFE!! is a rowdy and rumbustious listen, and one that will adhere them to thrash fans old and new. This is a solid start that promises much.
Tracklisting:
1. THRASH NEVER DIE
2. ROBOT IN THE PANDEMIC
3. MAD THRASHER
4. 殺戮ロホット ゙ – SATSURIKU ROBOT ver.2
5. CARRY ON
6. EPISODE ZERO
7. NO THRASH METAL, NO LIFE! ver.2