The Heavy Rock Breakfast tour through Europe celebrates experimental trio Boris' 30th anniversary as a band. This report covers the Ireland & UK leg from 2 through 6 May 2023.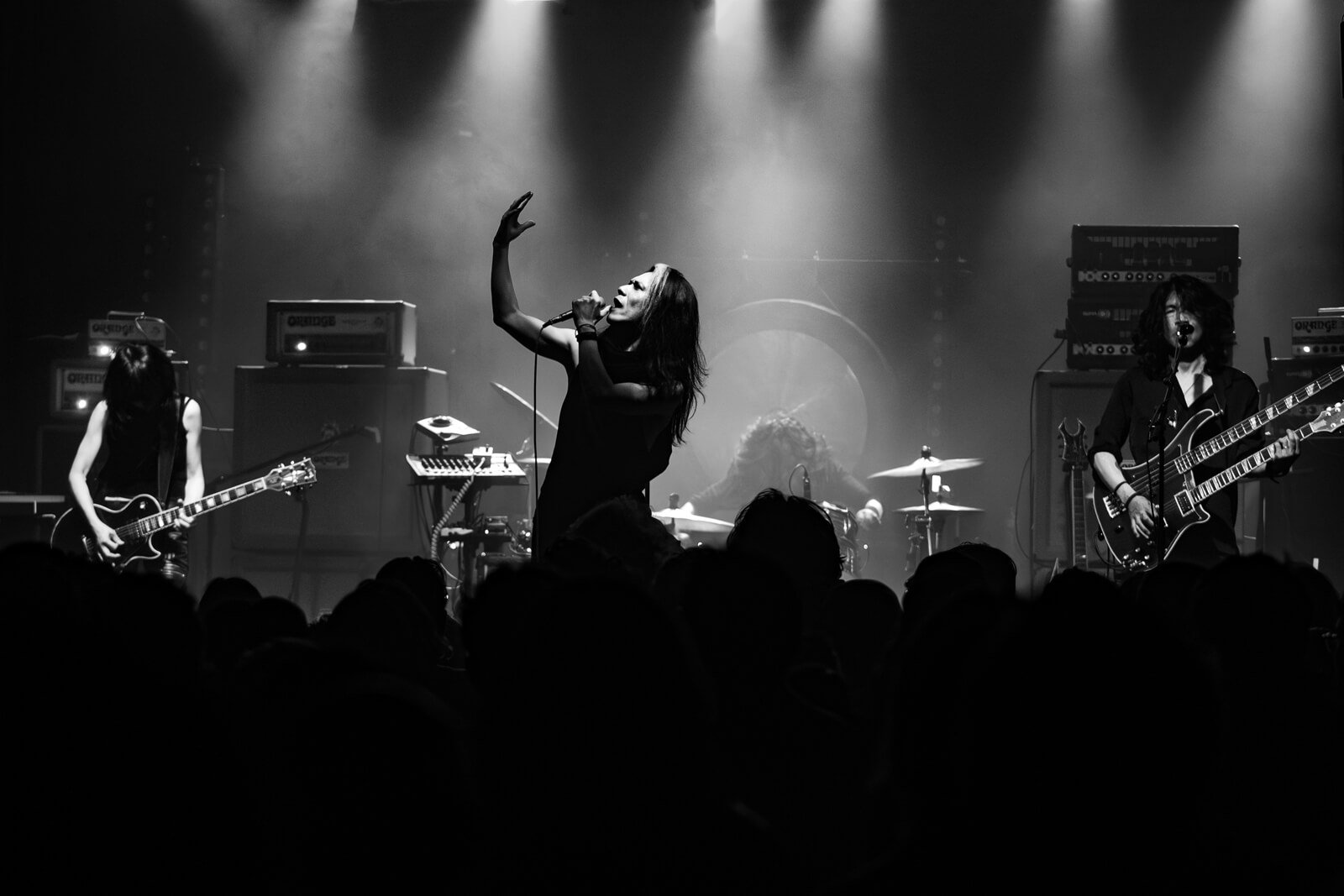 These shows, along with 2022's Heavy Rock Breakfast tour of North America are Boris' return to international stages for the first time since 2019. While 2020 was difficult for artists at all levels in many aspects, it ended up being something of a banner year for Boris. NO was first self-released by the band on short notice in July 2020 via Bandcamp. It was the first release of works borne of their pandemic recording & writing sessions, which seemed to be another wind creatively for the band. They followed with W on Sacred Bones Records in January 2022, stylistically opposing NO and conjoining to form NOW. The band then celebrated their 30th anniversary with the 3rd iteration of Heavy Rocks, released on Relapse Records. They then would finish the year with drone record fade. another surprise self-release in December.
Along the way since 2020, other releases included another in the series of collaborative performances with Merzbow entitled 2R0I0P0, split releases with ROCKY & THE SWEDEN and Bongzilla, as well as a myriad of singles. The band has consistently been a big proponent of Bandcamp Friday since the campaign began, putting out many exclusive digital releases of live material, unreleased works, rarities, and new releases in order to support themselves in the midst of the pandemic, and continue to do so. They also have had numerous physical reissues of old favourites through Third Man Records, the most celebrated of which was the first vinyl pressing of 2000's Flood. Whilst being one of their most celebrated recordings, Flood is also the perfect analogy for what Boris is. Their versatility is such that they are able to be like water – crashing & flowing and taking any form or direction and with releases constant as the tide. There perhaps hasn't been a more convenient or interesting time to be introduced/re-introduced to Boris since the last time they released 3 studio albums in a calendar year in 2011.
The set for this tour is comprised primarily of tracks from 2020's NO and 2022's Heavy Rocks. NO is a frenetic hardcore punk album, a red & black stamp excorsising the frustrations of being involuntarily caught in the present. The tracks are heavily influenced by bands of the Japanese hardcore scene, most obviously split-release collaborators ROCKY & THE SWEDEN and GUDON, whose track Fundamental Error is covered on the record and deep into the setlist of the tour. Heavy Rocks (2022) is a little more tongue in cheek, gauche rock n' roll album with a proud, obvious leopard print jacket. Produced with suGar Yoshinaga of Buffalo Daughter, there are maximalist additions of saxophone and gabber style kick drums interspersed as they turn over every last heavy rock to find elements they have not employed before. The songs played from this album really shine in a live setting more than on record, and the two albums that make the bulk of the setlist compliment each other well.
The set begins with the 1-2 of Anti-Gone and Non Blood Lore from NO, before the Heavy Rocks lead single She is Burning which is a real highlight of the show. The pace set is like a cheetah running with its prey and blood streaking behind, each song bleeds into the next without much pause and seems like there are no signs that it will let up. An important brief pause is made in Cypress Avenue, Cork on May 2 to announce the upcoming collaborative album with NYC's Uniform entitled Bright New Disease, releasing June 16. Yet another release stemming from the pandemic sessions and subject matter.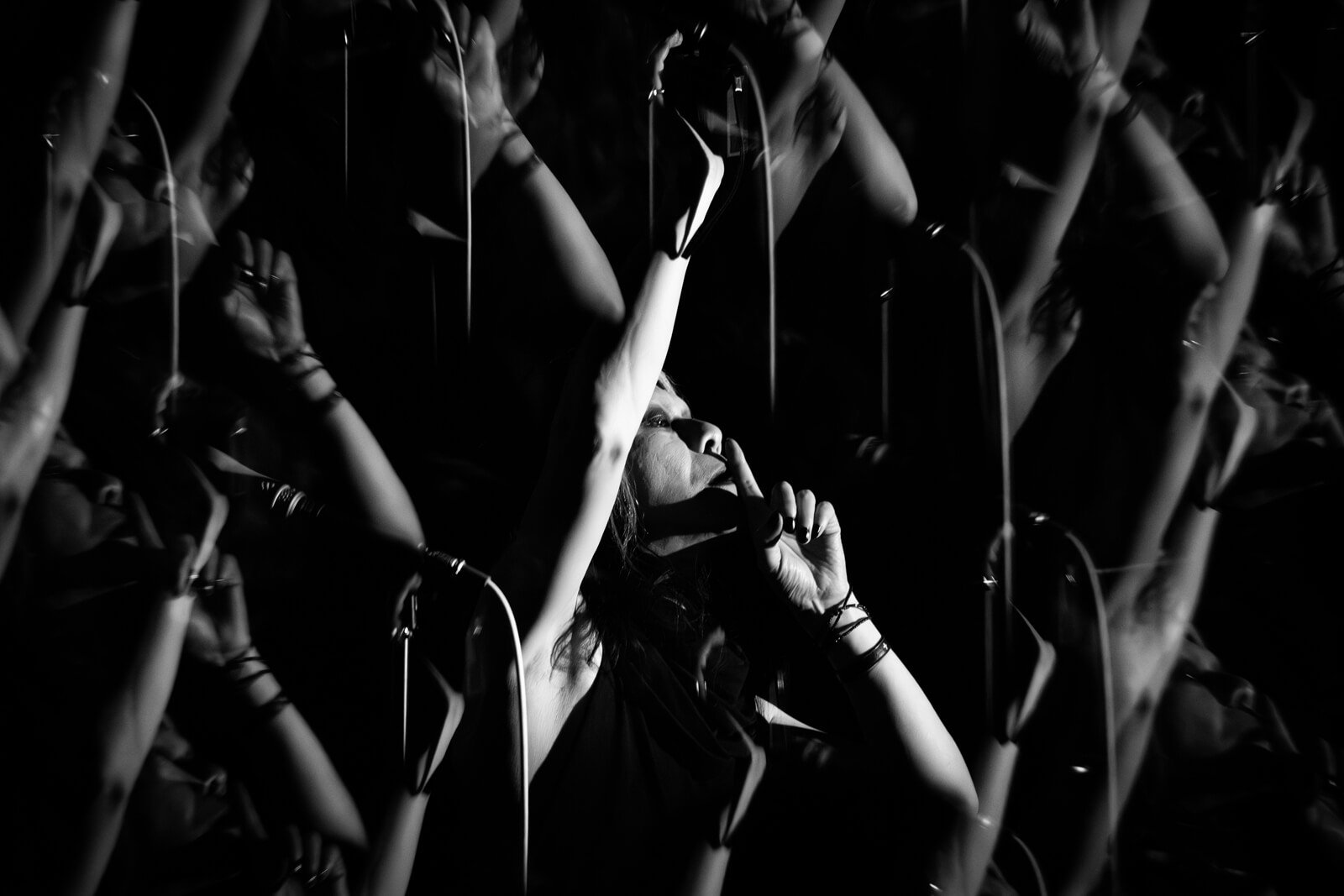 On this tour Boris appear as a 4 piece, with drummer Atsuo stepping forward as the lead vocalist and leaning heavily into the frontman role. When I first saw Boris on the 25th anniversary/Dear tour I don't think I caught a glimpse of him behind the kit at all through the thick layer of fog, even while standing at the front of the audience. Here, he chews up the scene and transparently has a lot of fun doing so. Traditionally, guitarist Wata and double-neck Takeshi have been magnetic on stage even as foggy silhouettes, but now Atsuo acts as the lightning rod for the audience's attention. Replacing him on drums is Muchio of KUMORIGAHARA. He has been playing live with the band in Japan through this era of shows since 2021, and now following them overseas. As easily as Atsuo slips into being the frontman, it feels like Muchio's inclusion is seamless and that he has always been a member.
The set decelerates into a droning, dark red crawl with Nosferatou, and Atsuo's expressionist gesturing and appearance are apt for that title. Up to this point the show is so loud and constant you will not be able to hear your own thoughts, but there are brief moments of silence found in the intro of Blood Red where you can hear a pin drop in the room. Atsuo motions to hush the audience and plays a cassette recording into the mic before the band whisk the room back into a frenzy. (not) Last Song is the major finale of the show, an intense piano & vocal led dirge where the heavy rock act and persona are dropped like a stage curtain. Atsuo steps forward as far as possible toward the edge of the stage, past the microphone stand. He intensely howls each line, throwing his voice against the back walls of the venue without the assistance of the skyscraping amplifier stacks. Whilst performing at The Black Box, Belfast the stillness is such that you could hear him stomp a single time on the stage in the midst of performance. On the studio recording, where the song has an abrupt smash cut end of scene there is now an extended outro with the full band coming in at the coda – which the only way to experience is at a live show.
Support on this leg of the tour came from London based Pupil Slicer, a grindy, intense metal band with syncopated rhythms and shrieking vocals. They play singles Blossom and Momentary Actuality from their upcoming album which exhibit more poppier, melodic elements that blend seamlessly together with the extremity – winning over the crowd on their first Irish dates.
The band had travel issues returning to mainland UK that are emblematic of the struggles of being a band in the United Kingdom today. Whether due to Brexit related red tape or inattention with the Border Force in Belfast they are left stranded for hours waiting for approval from customs as they attempt to ferry to Scotland. An inconvenience like this in traveling such a short distance seems ridiculous and has to be mentally and potentially financially draining for touring acts of any size. This is the reality that UK based artists now potentially have to deal with if they are to tour Europe. By the time they make it to Room 2 in Glasgow hours behind schedule, they are exhausted and on the warpath. They scramble a DIY, bare essentials setup and are able to blast out a 9 minutes of hell set before their stage time is over. The berserk sense of urgency to the performance probably had a more indelible effect on the crowd than if they were able to perform a full set and definitely left them wanting more. Perhaps not the way they envisioned this date going, but they were able to show that wherever they play, through thick or thin it will be sliced. On recent dates of the tour, lead vocalist & guitarist Katie Davies has also joined Boris on stage as guest vocalist on Kiki no Ue, making for a thunderous collaborative performance.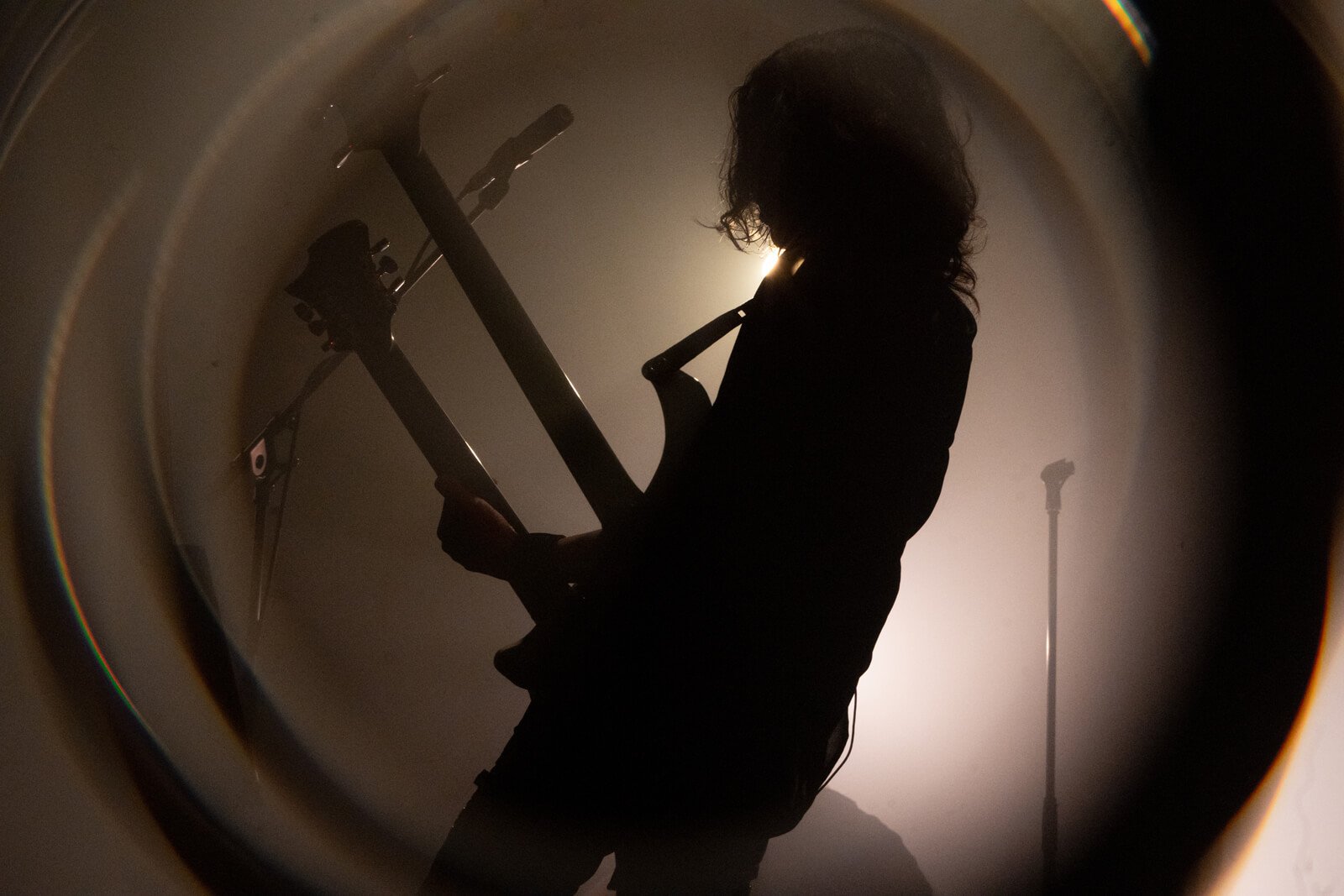 Pupil Slicer's sophomore album Blossom is released June 2 on Prosthetic Records. Post-black metal band Asunojokei from Akihabara joined the tour in the support slot from May 19th at Sonic Rites in Helsinki onward. The Heavy Rock Breakfast tour continued through continental Europe until June 8th with support from Pupil Slicer & Asunojokei. Dress code: Earplugs
Want so see more photos? Click on the photos to view the full galleries connected per show or click here.