A lot has happened since our interview with Christian Preiss in 2019, which is not surprising, as we are now three years and many releases further. For that reason was time to take a look at how Christian now looks at music after all these years of compiling Japanese indie music on cassette tapes, current activities, the various releases on cassette, vinyl and CDs, and future plans of Get Your Genki Records. Volume 9 of Get Your Genki will also be in the spotlight.
AVO Magazine: With Get Your Genki volume 9 just out, how do you look back at what you have been releasing since 2018?
Christian: I am actually very happy with what I have accomplished. I have met a lot of great new bands, made new acquaintances and learned an incredible amount. Of course, COVID-19 has thrown a spanner in the works. Of course, it can always be better and we could reach a lot more people, but I now have a very solid fanbase who are always looking forward to new compilations and that gives me the energy to keep going. Also the collaboration with Ashton Lamont is going more and more smoothly and we understand each other almost blindly, which is a lot of fun. On the whole, I'm really very satisfied, only I would love to receive more feedback because you never know exactly what the people out there like best.
AVO Magazine: You didn't stick with only compilations, was there a reason for that?
Christian: I had long played with the idea to produce an album or an EP for a band. Some bands on the Get Your Genki compilations have many of their songs only in digital distribution and I sometimes find it a pity that these great songs do not appear in the appropriate framework that they would have deserved in my opinion. So when Takara Araki provided a song for one of my releases and I heard all of her other songs, I knew it was too bad to hear these great songs only in a loveless digital format. I am very very grateful that not only she but also the label she usually releases her music on, Tanukineiri Records, agreed to release the CD on the label Get Your Genki Records. And I'm still very happy that so many people have worked on this release for free, I really appreciate it!
I have been releasing other albums at irregular intervals, my last release outside the regular series was a vinyl single with UNCLE JOHN. If you listen to these two songs on the 45, you will certainly realize very quickly why this kind of music belongs on a single and you do it totally wrong with the digital format!
AVO Magazine: It is something that I get asked from time to time in response to my publishing of articles promoting new music, but now I can ask this question to someone who put out new music, digitally and physically: what is good music to you?
Christian: Haha, I have always been afraid of such a question. Good music must, first of all, touch me in some way. It doesn't have to be the kind of music I usually listen to, it can also be a style I don't like at all, but if the music appeals to me and does something to me, then it's good music for me. For example, I do not like country music, so real original American country, this is just nothing for me. But nevertheless, there is the one or other song, with which I catch myself that I whistle along then nevertheless or which remains to me still days afterwards in the head. And whether I like it or not, that's a good song for me. It does not necessarily have to be a catchy melody, it can also be bulky or even trigger negative feelings, but it must do something with me (except of course totally annoy me), then it is good music for me.
AVO Magazine: Can you share something about your process to find music and when you decide that it can fit your compilation or deserves a separate release?
Christian: Most of the time I find new bands via Twitter. Since I now have a relatively large network, I get a lot of interesting music flushed into my timeline. In general, however, all social networks are immensely important for my work. I also follow many clubs and venues in Japan and try to be at many gigs live on YouTube, if that is offered and the time difference makes it possible. Otherwise, I also watch the programmes on the internet and listen to them as much as possible afterwards. But I also get recommendations from bands that have already been on the Get Your Genki compilations or separate releases, and a few acquaintances who live in Japan send me a recommendation from time to time.
What's interesting about my label, that hasn't changed in the last years: I simply have to like the music. I don't care about the genre or the style or the production. If I like the song, I contact the band or the solo artist. It doesn't matter if it's a high-gloss production and all the members have perfect command of their instruments or if it was recorded at home in the bedroom and the guitar is rather crooked and the vocals are perhaps much too loud. Of course, the artist has to agree to the release, a very important point that not many indie labels take to heart. This may sound very arbitrary now, but you can believe me that it is not at all. But it is a great relief that I do not have to look at any sales figures. First and foremost, the song must please me, if the listeners agree and see it that way, so much the better.
AVO Magazine: Do you enjoy music as much now as you used to before you started to produce Get Your Genki and other music, how has running a label affected your way of listening to music?
Christian: I actually listen to music for Get Your Genki a little differently now. Was I at the beginning of almost everything very enthusiastic, but I'm now rather a little more critical. I also try to mix more different music styles for the new compilation, so not only pop and rock, but also rap and hip-hop, experimental music, funk or jazz. I still try to be open to everything, of course, but I don't always succeed, and some of it sounds unfairly similar or starts to bore me. That sounds very critical now, but I just need variety, you don't want to eat pizza every time, even if you like pizza so much. Nevertheless, a month without pizzas is simply not a good and balanced month. But still, Get Your Genki is my baby that I raise alone and it gets to eat what I like. Oh man, so many metaphors, I hope that does not sound like I am above everyone.
AVO Magazine: In our previous interview, we were talking about that you don't stick to one genre of music and want to highlight the different styles of music that Japan has to offer, which makes the compilations very diverse and might be also surprising for those who are more attracted to one specific music genre. What would you say to those who have not made up their minds to buy a compilation?
Christian: Mhhh, I have played with the idea of compilations of a certain genre from time to time. So maybe only shoegaze or electronica, compiled from the previous compilations, that would be interesting if there is a demand. Otherwise, I would tell people that it's the selection of different styles that's interesting. Or it could be interesting, depending on how open-minded or experimental you are. A compilation like this is often a surprise package and the good thing about the different styles is that, at best, it never gets boring. And if you don't like one or the other song, the next one will be on in a few minutes. Maybe I would call out to these indecisive people: Be brave: Look beyond the horizon, be open to new and unknown things.
AVO Magazine: The last couple of years were very strange years in regards to the pandemic. What did it mean for Get Your Genki as a label?
Christian: Surprisingly, the pandemic has almost not affected me as a label. Distribution channels were cut, but not abandoned. The production of cassettes, CDs and vinyl were almost unaffected as far as I was concerned. The only problem I remember was the production for the debut album of LAST TO THINK. They also were on Volume 3. Since all the members of the band live in different regions of Japan, it was impossible for them to record the songs for the album. This of course delayed the production by quite a bit.
In private, in person or with friends, things were quite different. The indie scene in Japan lives from its live performances. That doesn't just mean financially, but also in terms of popularity: if you don't perform for a long time, you quickly lose your presence, despite the great fan base that many bands enjoy in Japan, which is absolutely unique.
I was therefore very proud that I was able to distribute a compilation of various bands online in collaboration with THE MAIN ACTOR IS U: all the proceeds went directly to the live house. I am very happy that I could support PANKIN, bassist and singer of GOOFY18. And it was exactly this kind of cooperation that was extremely important in the hard times of the pandemic and also brought me and some bands much closer together. Me personally, not necessarily the label, but that simply didn't count in such times.
AVO Magazine: Is there a specific (or maybe a couple) highlight that really stayed with you and brings a smile to your face whenever you think about it?
Christian: There are a lot, to be honest. For some, it may be a small thing, but every time a cassette is received by the participating bands and I receive feedback, it is an absolute highlight for me! I'm also very happy about the many invitations to drink beer, and some bands have even invited me to visit them on tour, so I'm sure they'll put me up somewhere during my stay in Japan. Every now and then I get presents from bands, even months later, which always makes me really happy. I wish I could organise a Get Your Genki festival in Germany where I could meet a whole bunch of the Get Your Genki bands in one place, that would be really nice! What also makes me really really happy is when bands from the first 2-3 volumes still know my name and sometimes send me a DM. This doesn't have to be anything important, it's really just about contact, but I'm really happy about that.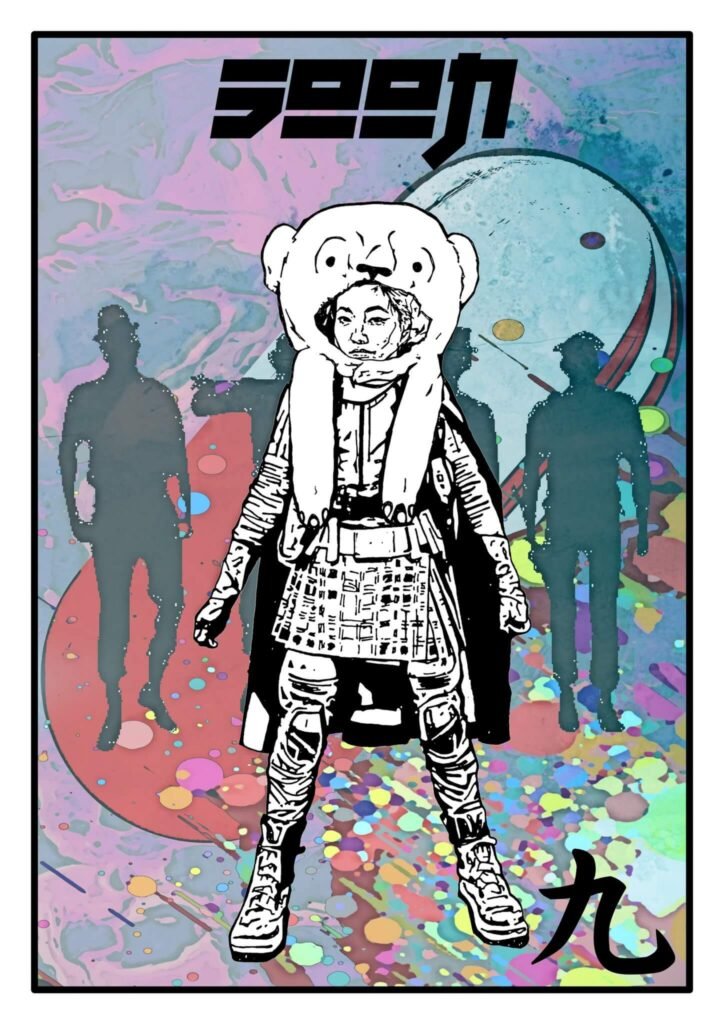 AVO Magazine: Let's look to the now and forward to what the future will bring for Get Your Genki Records. We can look forward to the release of the ninth compilation of Get Your Genki, what do you want to share about this?
Christian: At some point, I thought, perhaps in a fit of greeting mania, that the bands would actually just fly to me. And that I would only have to sort them out from Volume 5 at the latest. But of course, that's not the case, and that's actually a very good thing. Even after all these years, it's still a lot of fun to discover bands and make contact yourself.
In fact, I always start at the same time as before Volume 1, with all the uncertainties, the excitement and with only one plan in mind: to find a good mix of different styles and to create it all in collaboration with the bands. Just recently I discovered another great compilation with independent bands from Japan and I really liked some of the bands. But when I contacted these bands to ask them about a collaboration, I found out that they didn't know anything about the compilation: the songs were simply downloaded from the internet, burned on CD and sold for a lot of money! And that is exactly not the case with me and never will be: All bands on Get Your Genki have given their consent and the compilations have been made in cooperation with the bands. And I think that's only fair and important, all these bands make fantastic music and that should be honoured accordingly!
And that was exactly my intention and approach with volume 9. It was actually not very difficult to find bands that I like, but it varies a lot from volume to volume but for this release, it was no problem. As always, I let myself drift as far as styles or themes are concerned. I had already tried a theme-based compilation with volume 8 which was also very well received, but I think the whole package overwhelmed the listeners a bit: there were simply far too many bands, even if they are all quite excellent. With volume 9 of Get Your Genki, I wanted to row back a little, back to the beginning, so to speak.
AVO Magazine: We are still in the first quarter of 2022, which means that there are still many months to go to make this year a good year. What more plans do you have for this year? 
Christian: By the time the interview is published, it will probably be official (red. It is out now!): Besides Volume 9 and the already mentioned debut album of LAST TO THINK, there will also be a homage or maybe a reimagined soundtrack to the film HAUSU. I'm really looking forward to that! There will be a limited version with a lot of extras and there will be the possibility to buy all 3 releases as a bundle… How exactly, that will soon become clear.
In addition, I think I will finally (now we're getting back to the pandemic question) have a stand at the Nippon Connection in Frankfurt. I wanted to do that a few years ago, but then the COVID-19 pandemic got in the way. I still don't know exactly how I'm going to present my publications there, or how I'm going to decorate the stand, and I'm terribly excited, but I think it's going to be great and I'll make lots of great contacts there and exchange ideas with nice people.
And then there is a little teaser: I have found a kind of sub-label together with my Illustrator ASH: GENKI Xperience. This much I can say: it will be a vinyl release, a very wonderful and talented lady from America will appear there. The idea is to give bands, not necessarily from Japan, the opportunity to release their music on GENKI Xperience. Since vinyl is, unfortunately, more expensive than CD or cassette, I have to pay more attention to the marketability. But nevertheless, my personal taste will be in the foreground here too, but it will still remain non-profit, my expenses will also be directly offset in the sales price here so that everything adds up to zero.
Another big thanks to Christian for his time to answer the questions for this interview just before the release of Get Your Genki volume 9. Please keep an eye out on the future announcements of Get Your Genki, you can follow Get Your Genki on Twitter, Instagram, give the YouTube channel 1000 subscribers and of course, the official website is the place to be for all the information. Want to buy some music? Then you should check out Get Your Genki Records on Bandcamp.