It is that time of year for us in the UK, Hyper Japan festival launched again in London. For those of you unaware, Hyper Japan is an event promoting all things Japanese culture. There are a range of stalls selling everything from; general anime and video game merchandise, kawaii Japan style, and general Japanese culture items. There was also a good selection of new video games from Nintendo and Bandai Namco you could play in their areas. Among these were Jump Force, My Hero's One Justice, Octopath Traveller, and No More Heroes: Travis Strikes Again. Although the lack of Super Smash Bros. Ultimate was disappointing. The final aspect was the two stages where there were talks about Japanese culture, anime screenings, and live music! Over the weekend there were performances from YUKIKA, The Sixth Lie, Deadlift Lolita, ROA, HATENKOHRO, London Blue, and Tokyo Flavor. I'll be reviewing the ones who performed on the Sunday of Hyper Japan.
YUKIKA (Rock/Acoustic Singer-Songwriter)
YUKIKA got Hyper Japan kicking off on the right foot. Starting with the energetic 'Welcome to Japan', the crowd were full of energy despite it being early on a Sunday morning. YUKIKA has such a pure energy to her that is just infectious. During her set she switched between her rock tracks (where she played electric guitar to a backing track) and her acoustic tracks (where she played an acoustic guitar with no backing). I think it was good to not solidly do all of one first then swap, it spread it out a bit and gave you a real taste of her range of sound. Despite a couple of mini technical issues, she powered through her performance and won over the early morning crowd.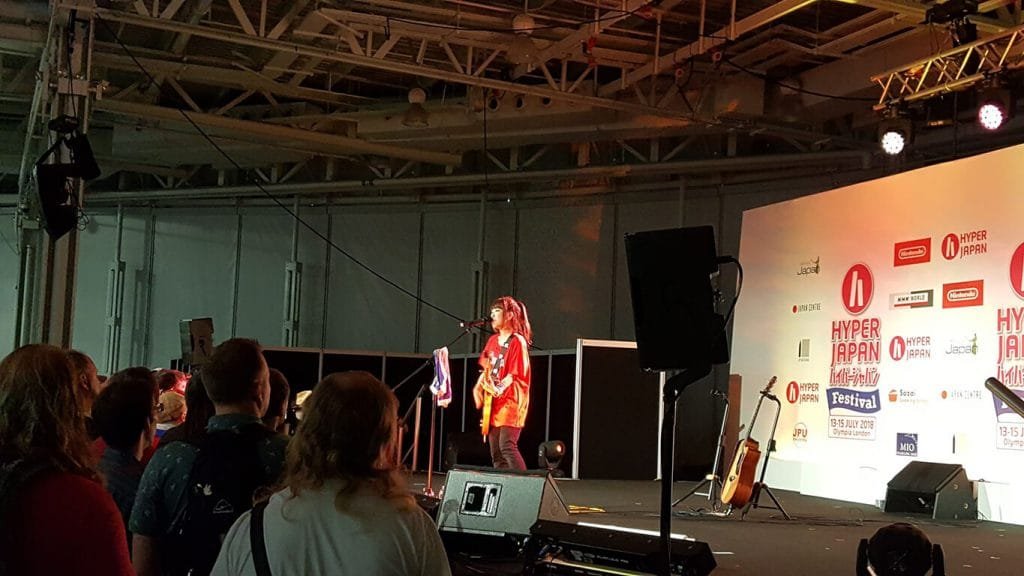 I have to say her acoustic performances were marginally better than the rock tracks. Personally, I think the combo of live electric guitar and full backing track is a bit redundant and didn't meld together very well. Whereas the acoustic had a much more together sound. Of course, at this point she couldn't afford a backing band, but it would be nice to see her in the future with one (like she has done at a couple of live shows in Japan) to really enhance the energy. Either way, she clearly showed she is a talented performer and I am sure this is by no means the last we will hear of her!
London Blue (Idol Group, J-Pop/Rock)
Second act of the day, coming on to a rock version of the national anthem, 'God Save The Queen'. That alone winning over the English crowd. Despite being one of the first performances for the 2 new members, the group vocally had a great unity. They harmonies they sang over the harsh rock backing track were in synch and managed to have enough weight to be strongly over the music. This was consistent across their set, my only fault with the group is the newer member's dancing was a bit out of synch, but this is to be expected in the first few performances. Over than that it was a solid all-round performance and was a fun experience to behold.
HATENKOHRO (Metal, Performance)
My interest was already peaked about how they mixed metal and swordsmanship/traditional dances, but it was truly a spectacle to behold. The metal sound creates that intense energy which gives you that enhanced experience of then watching sword fights unfold, particularly as it is perfectly in time to the rhythm of the songs. It was like watching an action pack anime/film. They even did a couple of slower tracks to focus on the more traditional Geisha dances. For the first few songs, it focused only on one or two performers at a time, giving each member their own chance to shine. Where it did start off strong, I think they truly shined in the last two songs where all the performers were involved. The use of costumes and props, created a real visual experience. My particular highlight is where the Geisha threw red streamers and they caught these on their weapons and were spinning it around. I was really blown away by it all and my only criticism is that I wish they had a longer set!
The Sixth Lie (Electronic Rock)
The day wrapped up with The Sixth Lie. Compared to the other pure music performers, you can tell they had more experience as the moment they came on you could feel their presence. Indeed, people were already swarming to see them as soon as the clock struck four. Wasting no time, they played one song after the next, delivering hit after hit. The number of casual watchers changed into a more engaged audience as more people got closer to the stage. The electronic side was drowned out by the rock instruments but that was made up by the performance alone. Near the end of the set they announced they were playing their song for Golden Kamui which really excited the crowd. The crowd may have been disappointed when their set drew to a close, but they ended the day on a high that's for sure!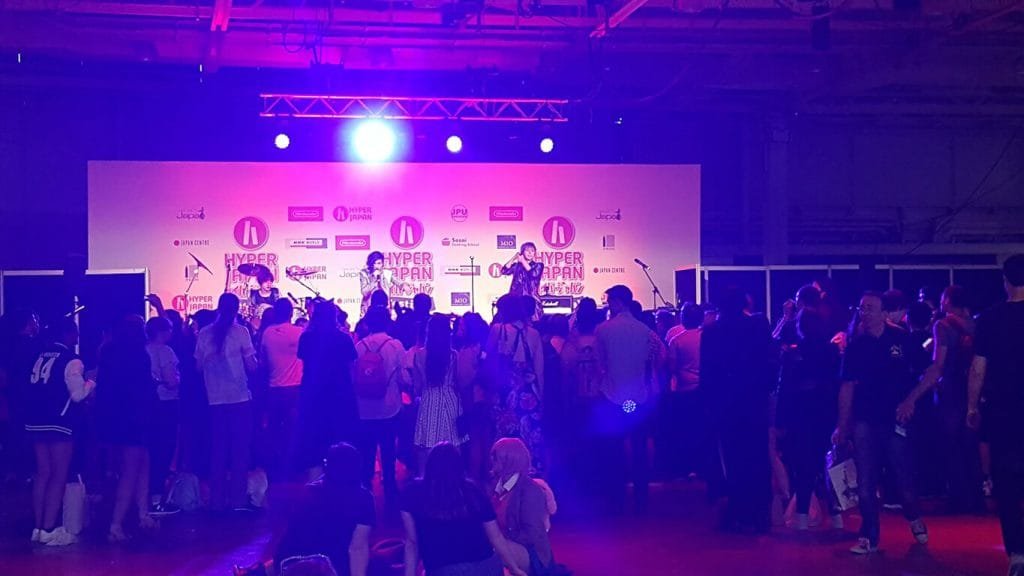 Overall it was a great day. The layout of the whole festival was more spacious, and was easy to get around. Although there was slightly more variation, there seemed to be less stalls than usual. Still there was very little wait to play any of the games which was great, as that is not usually the case. In terms of the music acts, my favourite performer was YUKIKA. She had a nice unique energy to her and had more variation to her set than the other artists. There was a fun atmosphere and I found it the most engaging set of the day. It was just a shame she was on so early so people who couldn't get there missed out.