The summer edition of Virtual Market is just behind us and we can already look forward to Music Vket 5, the big virtual market with a focus on music, to be found in what is called the metaverse, in this case VRChat. For nine days, from Saturday 26 August to Sunday 3 September, the fifth edition of Music Vket will take place. During this edition, there will be a collaboration with TuneCore Japan and JVC Kenwood.

With the first edition organised in 2020, amidst the pandemic, where the desire was great from music makers and artists to have a place where they can continue to present their music, these days it's all over the map with how people have started looking at the metaverse. VRChat is an online virtual world that has been operating for almost 10 years and so the versatility this platform gives also makes it a great place for virtual events like Music Vket.
But what exactly is Music Vket?
The event consists of several virtual worlds to visit, where you can walk around various stands selling (new) music. It is a great opportunity to discover new artists and socialise with other visitors to the event, just like you can do at conventions. But it is good to know that this event is free to attend as there is no entrance fee and the worlds can be visited 24 hours a day. This event can be visited via the social platform VRChat, with a VR set or with your computer, which is free to play and available via Steam. The event can also be visited via the web browser.
The location for this year's Music Vket is a cyberpunk city in the near future with a series of skyscrapers. After passing through the venue's entrance, 375 circle booths are spread out in a "Chill Space" that resembles the inside of a building in a near-future city. General exhibitors have listening booths in a virtual space that can be visually viewed, and participants can listen to and buy music while interacting with each other in a relaxed atmosphere. The worlds where you can find these listening booths bear the names Fuzz, Chorus, Reverb, Tremolo, and Wah.
Diversity of activities
Not only you can shop for new music from mostly Japan at Music Vket 5, several activities have been organised for Music Vket 5, including a live event project where more than 50 artists will participate in an open concert. The stage options are diverse, with four themes inspired by Japanese seasons (spring, summer, autumn and winter) and three lighting arrangements. Artists from different genres will grace Music Vket's stage with their performances.
On 26, 27 and 30 August, the VRDJ event CANDYTRIP, in collaboration with Music Vket, will present a psychedelic trance event with various DJs for musical delight, VJs for visual expression, and PJs (Particle Jockeys) providing additional immersive visual effects. CANDYTRIP is a club event held every 2-3 months since last August, the fifth edition took place in June this year.
Furthermore, Virtual Reality artist Reimhak will be present again with a presentation of a VRMV (Virtual Reality Music Video) independently produced under the guise of Particle LIVE. Last year it was a song by Vocaloid producer Kanaria with the song KING, this time the song Cinderella by Vocaloid P DECO*27 will be on display.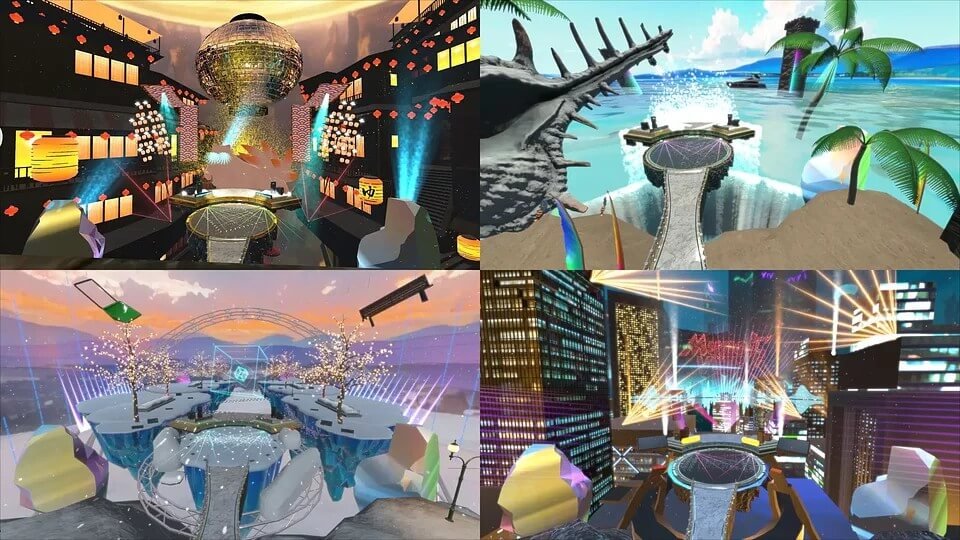 JVC Kenwood was also present during the summer edition of Virtual Market, but will also be present during Music Vket 5, where you will get the chance to play a rhythm game by Kami Hirose, on a gramophone. So if you want to know how such a game works in combination with VR, definitely look for this one during Music Vket 5.
TuneCore Japan launched ten years ago and this has been celebrated with the organisation of The Independent Artist Awards on 9 June, this award ceremony recognises independent artists who have continued to lead the music scene from different perspectives. During Music Vket 5, it is possible to visit an introductory area where you can listen to music by the seven artists who won the Grand Prix at The Independent Artist Awards, namely: Tani Yuuki, cinnamons & evening cinema, HoneyWorks, Kotoha, Ichika Nito, Repezen Foxx, and Toya Takase. You will also have the opportunity to vote for the exhibition works on offer. It does make it interesting to support your favourite, as three artists will eventually be chosen for the TuneCore Japan Award, which will also give them the opportunity to distribute an album for free through TuneCore for three years.
A heads-up: Open Mic Bar Spot Light Talks (VRSLT) will open during Music Vket 5 with a special edition where artists participating in the fifth edition of Music Vket can perform. The event will take place at VRCHat (look for on September 2, with the start time of 23:00 Japanese time (16:00 CEST, 15.00 BST). Check Spot Light Talks' Twitter account for more information on how to find the venue and the important things to keep in mind.
On Music Vket 5's official website, you can find much more information about the activities during the opening days, as well as the various worlds and artists that will exhibit and you will discover that there are not only virtual artists to be found.
About HIKKY
Tokyo-based VR company HIKKY Inc. is behind the creation of Music Vket, which was conceived to support creative minds who were struggling due to the pandemic as there were fewer and fewer opportunities for them to showcase their work. The result was a new form of exhibiting and selling in a virtual space, but it was not meant to be a replacement or temporary solution to the real thing. It officially began with Virtual Market in 2018, which is currently the world's largest VR event.