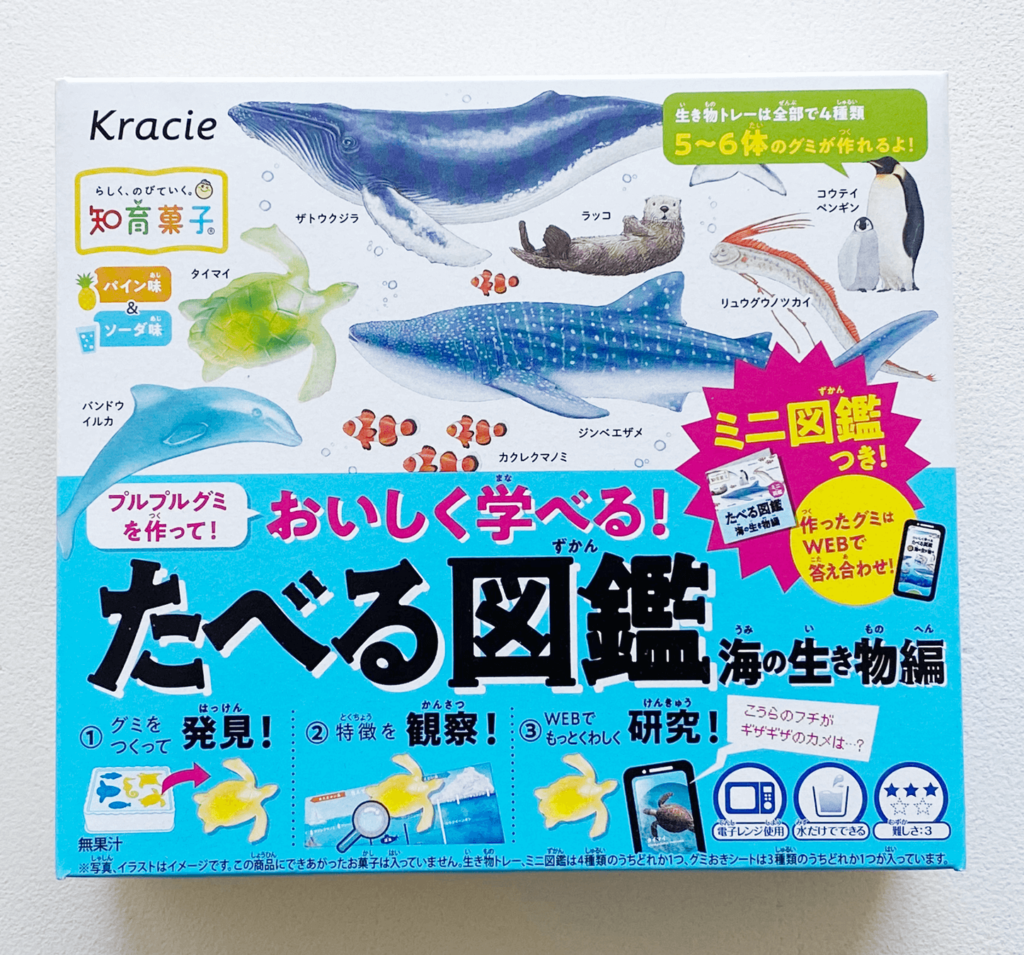 Kracie – Sea Creatures Gummies – Simple
Price: ± €9
Extra supplies: Microwave, Water, Scissors and Plate. Optional: Toothpick.
This educational candy kit by Kracie features a lot of sea creatures, some that live exclusively in the water and other that live both in the water and on land. There are four moulds available, with each five or six creatures in them. The mould I got had a narwhal, otter, polar bear, stingray, beluga whale and a seashell in it. In the packaging you'll find a little booklet, two sachets with gummy powder, one sachet with colourful sprinkles, a mould, two mixing bowls, a spoon and a wrapper with an image on it to put the gummies onto.
Flavour: ♥♥
Each colour of gummy had a different flavour to it, yellow had a pineapple flavour and blue had a ramune flavour. Neither of the gummies have strong flavours to them, but the intended flavours are recognizable. The gummies were pretty sturdy, which made it possible to keep them in one piece when removing them. If they'd been any softer the narwhal, for instance, wouldn't have come out in one piece.
The coloured sprinkles had a sour flavour to them, which I thought complimented both kinds of gummies very well. It was a nice addition in flavour.
Time needed: ⧗
It takes very little time to mix the powders with the water, microwave it and pour it into the mould. It does take a little time until the gummies have fully set.
Difficulty level: ★
Very few steps are involved in making these gummy creatures and they are all pretty straight forward. Just follow the instructions carefully, so you don't overheat the gummy mixture.
Similarity: 📷📷📷
As you can see on the pictures below, the final product looks very similar to the picture on the packaging. There really isn't a difference, since they come out of the mould so well.
Want to enjoy this kit again?
Clean the mould with warm water, after using it, and let it air dry.
You can fill the mould with melted chocolate or you could, for example, make your own gummy mixture and pour that in.
---
This is not a sponsored review and because of this we won't mention where this set was bought, search online using the name of this candy kit and you should be able to find it.