Na YouTube Anime Weekend vorig weekend, kunnen we dit weekend uitkijken naar de vierde editie van YouTube Music Weekend, een weekend vol Japanse muziek, georganiseerd door YouTube Japan.
Het online-evenement vindt plaats van vrijdag 3 tot en met zondag 5 december en omvat een mix van fanfavorieten en opkomende artiesten tijdens YouTube Music Weekend Vol.4. De groepen RADWIMPS, Nogizaka46 en ONE OK ROCK zijn de headliners van dit weekend. YOASOBI zal één nummer rechtstreeks live vanuit Nippon Budokan ten gehore brengen tijdens hun NICE TO MEET YOU optreden, dat tevens hun eerste in-person concert is.
Tijdens de drie dagen worden live-opnamen gemaakt die speciaal voor YouTube Music Weekend zijn gemaakt, en wordt nog niet eerder vertoond materiaal opgenomen. Het weekend wordt georganiseerd in samenwerking met Japanse artiesten, muzieklabels en managements en er zullen in totaal 68 artiesten optreden, met een dag- en middernachtprogramma. De nachtprogramma zal bestaan uit Vtuber-programmering. Dit is een goede kans om van oude favorieten te genieten, maar ook om nieuwe namen te ontdekken.
Alles van dit weekend zal te zien zijn in de YouTube Music Weekend playlist en de YouTube Music Weekend Midnight playlist.
YouTube Japan heeft hard gewerkt aan een programma om digitale steun te verlenen aan entertainmentbedrijven en -organisaties die zijn getroffen door de uitbraak van COVID-19 en heeft dit ondergebracht onder de noemer The Stage Lives On. YouTube Music Weekend Vol.4 maakt deel uit van dit programma.
De tijdschema's voor de dag- en middernachtprogrammering zijn onder voorbehoud van wijzigingen.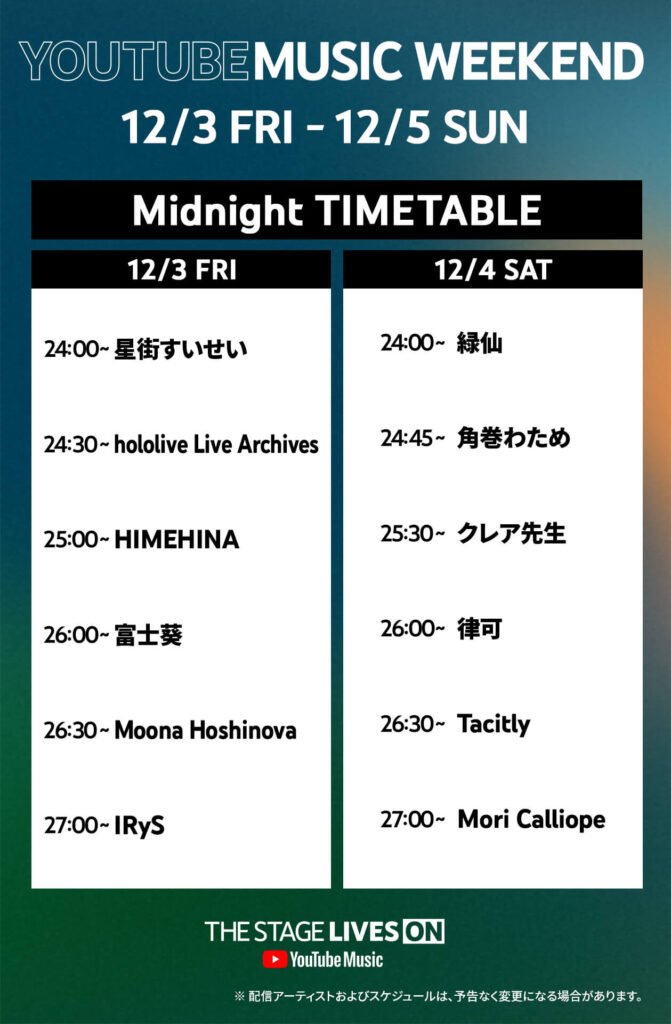 Deelnemende artiesten aan YouTube Music Weekend vol.4: RADWIMPS / Nogizaka 46 / ONE OK ROCK / 4s4ki / asmi / 阿部真央 (Mao Abe) / 絢香 (AYAKA) / indigo la End / 上坂すみれ (Sumire Uesaka) / Wez Atlas / Uru / eill / Ezoshika Gourmet Club / 岡崎体育 (Taiiku Okazaki) / クリープハイプ (CreepHyp) / Kroi / go!go!vanillas / こはならむ (Kohana Lam) / 小林私 (Watashi Kobayashi) / さとうもか (Satomoka) / 澤田 空海理 (Sori Sawada) / the engy / C&K / GENERATIONS from EXILE TRIBE / (sic)boy / SUPER BEAVER / Superfly / スキマスイッチ (Sukima Switch) / Saucy Dog / 空音 (SORANE) / TAEYO / w.o.d. / TENDRE / tricot / ナオト・インティライミ (Naoto Inti Raymi) / 中村佳穂 (Kaho Nakamura) / Nulbarich / にしな (Nishina) / 浜崎あゆみ (Ayumi Hamasaki) / BALLISTIK BOYZ from EXILE TRIBE / ビッケブランカ (Vicke Blanka) / VivaOla / FANTASTICS from EXILE TRIBE / FAKY / フレデリック (Frederic) / ベリーグッドマン (Berry Goodman)  / MACO / majiko / 松本千夏 (Chinatsu Matsumoto) / miu / YOASOBI / RiL / れん (Ren) / ONE N' ONLY / @onefive
Deelnemende Vtubers van YouTube Music Weekend Midnight: IRyS / クレア先生 (Claire Sensei) / Tacitly / 角巻わため (Watame Tsunomaki) / HIMEHINA / 富士葵 (Aoi Fuji) / 星街すいせい (Suisei Hoshimachi) / hololive Live Archives / Moona Hoshinova / Mori Calliope / 律可 (Rikka) / 緑仙 (Ryushen)